- STAGE RACE -
SUNDAY DECEMBER 5, 1999
-- Las Vegas Inline Skate Challenge --
IN CONJUNCTION WITH A 5K FUN RUN EVENT

Come to the entertainment Capital of the World and enjoy this exciting day of Running and Inline Skate Racing events.

BEAT THE CROWDS:
Send your registration form and fee to the address listed in the form ASAP. Enjoy a full day of entertainment, music, raffles, food, beverages and more.

PRIZES:
- CASH PURSE FOR THE TOP 3 MEN AND WOMEN SKATE PROS
- AWARDS FOR ALL TOP THREE AGE CATEGORIES (MEN AND WOMEN)

ALL PARTICIPANTS WILL RECEIVE:
- RACE PACKET (GOODIE BAG) - BIB NUMBER - COMMEMORATIVE T-SHIRT

RACE SCHEDULE:
7:30 a.m. - Late Registration
8:30 a.m. - 1/2 Marathon Pro-Elite and Advanced Skate
10:00 a.m. - 5K Fun Run
10:35 a.m. - 10K Pro-Elite and Advanced Skate
10:40 a.m. - 5k Fitness & Recreational Skate
12:00 p.m. - Awards ceremony

ACCOMODATIONS:
- SPECIAL HOTEL RATE (CALL FOR DETAILS)

Skaters and Runners of all levels and age categories are welcome!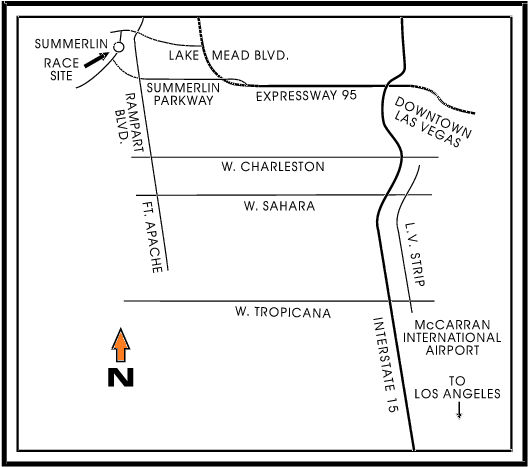 Mail your registration form and check to Get-In-Line Events or fax your form before the deadline to secure your T-Shirt. Late charges will be added after the deadline.

For event and volunteer information call (949) 722-2740

Registration for STAGE SKATE RACE:
1/2 marathon and 10K Races: $45.00
(including T-Shirt) or $28.00 per race


Registration for 5K Recreational/Fitness Skaters
and Runners: $25.00 (including T-Shirt)


This form must be signed and mailed with payment
not later than November 25, 1999
(Late registration, add $10.00)


Runners may also use this registration form or the
registration form of the runners flyer.

---
"LAS VEGAS INLINE SKATE CHALLENGE"
MAIL ENTRY FORM & FEE TO: GET-IN-LINE EVENTS, 2675 Irvine Ave. #F-409, Costa Mesa, CA 92627


___________________________________________________________________________
Name (first) last


___________________________________________________________________________
Address


___________________________________________________________________________
City State Zip


___________________________________________________________________________
Phone Ext. e-mail address M / F Age on Race Day


Skate Category: (ability level)
___ Pro-Elite - $ Cash Purse
___ Advanced - Age Awards
___ Fitness/Recreational - Awards
___ RUNNERS:
Awards by age categories


AWARDS TO THE TOP 3 IN THE FOLLOWING AGE GROUPS:
___ 11-13 ___ 14-17 ___ 18-24 ___ 25-29 ___ 30-34 ___ 35-39 ___ 40-44 ___ 45-49 ___ 50-54 ___ 55-59 ___ 60+

T-shirt: ___ M ___ L ___ XL

RELEASE OF LIABILITY: (Each participant must read and sign)
I am aware that participating in this "Las Vegas Inline Skate Challenge" event can be a hazardous activity and I hereby accept all risks of injury or death. In consideration of my being allowed to participate in the "Las Vegas Inline Skate Challenge" event, on behalf of myself and my heirs, executors, successors, dependents and assigns, I hereby assume all risks of such participation and do agree to release and hold harmless Get-In-Line Events, the City of Las Vegas, Las Vegas Police Dept., its officials, employees, sponsors, and representatives, from and against any injury or damage I may sustain, however caused, as a result of my particpation in this "Las Vegas Inline Skate Challenge" event. I hereby permit the free use of my name and photo in any form of advertising, broadcasting, telecasting press releases pertaining to the "Las Vegas Inline Skate Challenge". I have read, and fully understand, the entire contents of this release.


___________________________________________________________________________
Signature (Parent or legal guardian if under 18 years of age) Date


HELMETS MANDATORY - OTHER SAFETY EQUIPMENT RECOMMENDED